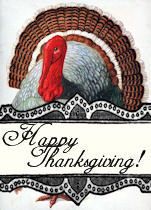 I will be using this week to work a little behind the scenes magic on my blog.
I know, I know you will so miss my daily posts. Don't fret, I'll be back next week with a new and improved blog format, lots of things to blog about and a belly full of Thanksgiving gobbly goodness!
Tah Tah 'til then...