*update in which she throws up her hands*
There is quite a bit going on around here right now- most of it happy stuff. The week was already looking to be insane and dear Trot kinda put it over the top. I need to step away from the computer for a few days to get my life fully back in order- hate to do it, but when I first started blogging, I promised myself that I would keep solid boundaries of time. I'll be back in this neck of the woods next week and able to give you all the juicy details.
Enjoy your weekend celebrations!!!!!
*************************************
Trot is much happier to be home, see...
he even tried to smile for the picture! I feel so bad for him that he has to wear that ridiculous E-collar whenever we leave him, but I'd feel ANGERED

if we came home to find he had chewed through his cast.
I have a bit of bloggy catch-up to do and today I'd like to start with some fun awards I've received.
My bloggy buddy Coffee Slut gave me this adorable "sweet blog" award. Cute, huh? Thanks so much Coffee Slut- I love coming by your place- especially with a cup of coffee in hand!
And the kind hearted Pam over at The Chronicles of a Veteran Kindergarten Teacher gave me this award recently.
I started following her blog to relive my kindergarten teaching days and it has morphed into so much more than that. Thanks for all your kindnesses
,
Pam!
So as is usually the case, these awards come with rules, but I'm going to chance them up a bit and I'm sure you will support me on this
.
I won't shirk all my duties though, so first off, some things about me that I might not have shared yet...
- I was a potter for a local studio. I worked there under a year, but it was an awesome stage in my life! I especially loved opening the kiln door to see what we had created. Seriously, it was like Christmas.
- I am left handed
- I like to knit
- I worked at a dog training academy for 7 years through high school and college... kinda explains my dog obsession.
- Champ and I are high school sweethearts
- I am terribly scared of crowds and being put to sleep for surgical procedures
-
I play the piano
Instead of passing on this award to others, I'd like to bring awareness to some bloggers out there who could really use our support right now.
Some of these lovely people I've know for a while, others I've only just discovered, but they all could use a little extra love, extra prayer, extra positive thought...
Daffy at Bat Crap Crazy just lost her "Big Sis" to brain cancer complications. It was so sudden and shocking that I can't even begin to fathom what that family is going through.
Recently Emmy at Emmy Mom- One Day at a Time delivered her baby, Ryder, early when her water broke at 32 weeks. She and her family were vacationing away from home at the time and are currently dealing with all the delicacies of a premie baby born so far from home.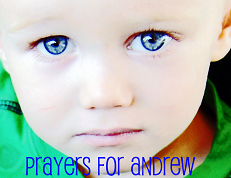 Julie at Snips and Snails
and her family are working to process the recent diagnosis of cancer for her youngest son, Andrew.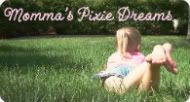 Michelle at Momma's Pixie Dreams
is supporting her 16 month old daughter, Monkey, as she begins her battle with Neuroblastoma.
Thanks for doing what you can to show support to these families.
Here's the deal with me: I want to keep on computering right now BUT

I hear Bear getting up, can see my poor garden sooo in need of being planted and there's Girls On the Run practice this afternoon.
So, I will be grateful that I at least am semi back on track after last week's chaos and I'll consider tomorrow a new day. See you soon bloggy friends!